The band's first LP, recorded in a single afternoon in the winter of 1974, is a collection of 16 oldtime songs, rags and fiddle tunes. The following quotes are from original reviews:
"Fans take notice, for here is a beautiful recording by a trio of young Ohioans who are dedicated to the idea that old-time music is a valid, living music… performed with an exquisite sense of taste, timing, intelligence and appropriateness."
Bluegrass Unlimited
"This is a deeply satisfying recording… an album rich in content, rich in skill and richly rewarding in the listening."
Tom Teepen – Dayton Daily News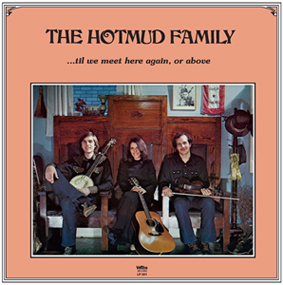 from the original liner notes –
We have a feeling toward the folks who share in our music and this feeling takes us beyond ourselves and makes us a family. What we don't learn from parents and grandparents we learn from Uncle Daves and Mother Maybelles. But simply duplicating traditions and copying the old folks leaves us in the past. On the other hand, losing contact with our roots is certainly no better. We're not bound to the past as passive transmitters of folklore, nor are we possessed by the future as musical scientists experimenting solely for the sake of innovation.
Produced by Lou Ukelson
Engineering & Re-mix by Rusty York
Art Direction by Chuck Good
The band on this album was:
Suzanne Edmundson, David Edmundson and Rick Good
Our guests were Ron Murphy, Greg Dearth and Tom Harley Campbell
One Side
Other Side
1. HELLO STRANGER
Rick – lead vocal & banjo
Suzanne – vocal & autoharp
Dave – vocal & guitar
thanks to the Carter Family
1. ROCKY ISLAND
Dave – guitar & lead vocal
Suzanne – banjo & vocal
Rick – banjo & vocal
Ron – laughing bass
thanks to Martin Young and Corbett Grigsby
2. HAWKINS RAG
Suzanne – mandolin
Rick – banjo
Dave – guitar
Ron Murphy – bass
thanks to the Skillet Lickers
2. CARBOLIC RAG
Suzanne – mandolin
Dave – guitar
Tom "Harley"Campbell and Rick – twin spoons
3. MY WANDERING BOY
Suzanne – lead vocal & guitar
Dave – vocal & fiddle
Rick – vocal & banjo
thanks to the Carter Family
3. OVER THE MOUNTAIN
Dave – guitar & lead vocal
Suzanne – mandolin & vocal
Rick – banjo & vocal
thanks to Uncle Dave Macon
4. LOUISIANNA FARM
Rick – lead vocal & steel guitar
Suzanne – vocal & guitar
Dave – vocal & mandolin
Ron – bass
thanks to J. E. Mainer
4. POLLY PUT THE KETTLE ON
Dave – fiddle
Rick – banjo
thanks to Sam Kelly
5. LAST CHANCE
Dave – fiddle
Rick – banjo
Suzanne – guitar
thanks Hobart Smith
5. RICH AND RAMBLIN' BOY
Rick – banjo & vocal
Suzanne – guitar & vocal
Dave – fiddle & vocal
thanks to the Carter Family
6. BLUE RAILROAD TRAIN
Suzanne – vocal & guitar
Rick – vocal & steel guitar
Dave – vocal & guitar
thanks to the Delmore Brothers
6. OLD SONGS (Good)
Suzanne – mandolin & vocal
Rick – steel guitar & vocal
Dave – guitar & vocal
thanks to the funniest clown of all
7. GOING THAT WAY
Dave – lead vocal
Suzanne – vocal
Rick – vocal
thanks to the community of Beach Mountain, N. C.
7. SHUFFLE CREEK (Dearth)
Greg – fiddle
Dave – fiddle
Rick – banjo
Suzanne – guitar
8. JOHN LOVER'S GONE
Greg Dearth – fiddle
Dave – fiddle
Suzanne – banjo
Rick – banjo
thanks to Wade Ward
8. WALKIN' IN JERUSALEM
Suzanne – lead vocal
Dave – vocal
Rick – vocal