After a three year hiatus from recording, the band's fourth and final Vetco LP was released in 1978.
"I'll vote at least two prize ribbons to the Hotmud Family on this, their latest LP. I don't know of any band that can do such a superb job spanning that sometimes large chasm between Appalachian old-time and bluegrass, and still maintain the traditional integrity of each… the versatility of the musicians is apparent… the selection of tunes is top notch… the trios and quartets are quite polished with a style that is unique to this band."
Bluegrass Unlimited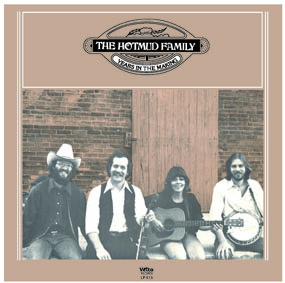 from the original liner notes –
Dear Folks, Sorry you haven't heard from us in such a long time. We've been on the road most of the time for the past couple of years. These are some of the songs we've been singing — we hope you enjoy listening.
Produced by Lou Ukelson & the Hotmud Family
Art Direction by Chuck Good
The band on this album was:
Suzanne Edmundson – guitar & vocals
David Edmundson – mandolin, fiddle & vocals
Rick Good – banjo & vocals
Jerry Ray Weinert – bass & vocals
One Side

Other Side

1. LATE LAST NIGHT WHEN WILLIE CAME HOME


Thanks to Uncle Dave and Doc

1. BLUE NIGHT


(Kirk McGee)
Thanks to Bill Monroe
Lead vocal – Suzanne

2. I THOUGHT I HEARD YOU CALLIN'

MY NAME


(Lee Emerson)
Thanks to the Hutchison Brothers

2. IT'

S ONLY THE WIND


(Tom T. Hall & Earl Scruggs)
Thanks to Bill Lowe
Vocal Trio

3. KENTUCKY GAMBLER


(Dolly Parton)
Thanks to Merle Haggard
Lead vocal – Rick

3. 2 WHITE NICKLES


Thanks to John Hutchison Sr.
4. IF YOU DON'T LOVE YOUR NEIGHBOR
(THEN YOU DON'

T LOVE GOD)


Thanks to Carl Story
Vocal Quartet

4. TUCK AWAY MY LONESOME BLUES


(Jimmie Rodgers)
Thanks to Americas Blue Yodler
Lead vocal – Suzanne

5. IT'S RAININ', RAININ' HERE THIS MORNIN'


(Louis Marshall Jones)
Thanks to the Stanley Brothers
Lead vocal – Dave

5. SOMEWHERE DOWN BELOW THE DIXIE LINE


(Ryan & Rodgers)
Thanks to Jimmie Rodgers
Lead vocal – Rick

6. HOGDEER, MISSISSIPPI pop. 4


Thanks to Fiddlin'

Van Kidwell & Buddy Thomas

6. BRING BACK MY BLUE EYED BOY TO ME


(A. P. Carter)
Thanks to the Lilly Brothers
Lead vocal – Suzanne

 

7. I'M LOOKIN'

FOR THE STONE


Thanks to Nimrod Workman
Vocal quartet